With consumers still refusing to buy, and fashion houses closing left right and centre, it's about time luxury companies come up with more radical marketing strategies. One of the biggest attention grabbing method is, obviously, the ad campaign. And with the current economic crisis, there's been a new trend of ad campaigns that I've noticed this season, which I may name the "the clothes sell the clothes" trend.
Back in the 90s, when everything was still tacky, whacky and wonderful, and disposable income was flowing like tsunami waves, designers concentrated on selling luxury lifestyles, trying to lure customers into buying the brand from top to toe, to complete the customers' "designer ways of living". This included:
1) excessive use of supermodels, who were THE celebrities back then. Remember this classic?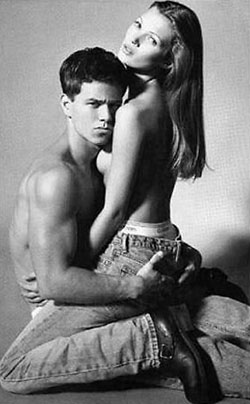 2) making a house statement. Designer houses were like cults back then. They had excessive, impulsive followers (blame Tom Ford), who would have the cash to dress themselves top to toe in, say, Gucci fur, Gucci dress, Gucci shoes, Gucci monogrammed bondage G-strings (still my favourite till this day, but ahem, that's another story)
How time has changed, 15 years down the track, and the majority of the population now can't, or refuse to, buy a top to toe deisgner outfits. With runway looks being knocked off in less than a month (Topshop anyone?), and ridiculous bi-annual price mark ups of luxury items, consumers these days are happy to wear zara, and save up for 1,2 pieces of designer items per season instead. Which makes the whole selling a lifestyle thing a bit irrelevant in this day and age. So what to do now? Cut out the models' faces, and focus on the clothes instead! Let's have a look at a few ad campaigns this season that executed this 'trend' extremely well:
1) Celine (which I cannot praise enough):
2) Lanvin :
3) Prada - which continues to be my favourite seasons after seasons:
Then, there are houses that seem to stick to the conventional ad-campaign:
Artistic value aside, what's your first reaction when you see the ad? If it's like mine, it'd be 'Raquel looks AMAZING', and not 'I love what she's wearing!'.
Get my point now?
~Dee-Ha~